19 nutrient-dense greens
13 whole vegetables and fruits for power-charged nutrition
6 fibers from upcycled vegetables for gut health
5 enzymes for digestive support you can feel
5 immune boosters to keep you going strong
4 adaptogens for powerful mood support
6 dedicated antioxidants (in addition to the whole food blend!)
2 full servings of vegetables in every glass
Plus 22 vitamins and minerals
About Nature's Sunshine Power Greens
We get it—there are a TON of greens out there—but nothing like this! Power Greens is the only blend packed with 2 full servings of vegetables, 200+ plant-based nutrients, prebiotic fiber, enzymes, adaptogens, nootropics and immune-boosting herbs. And… it tastes delicious!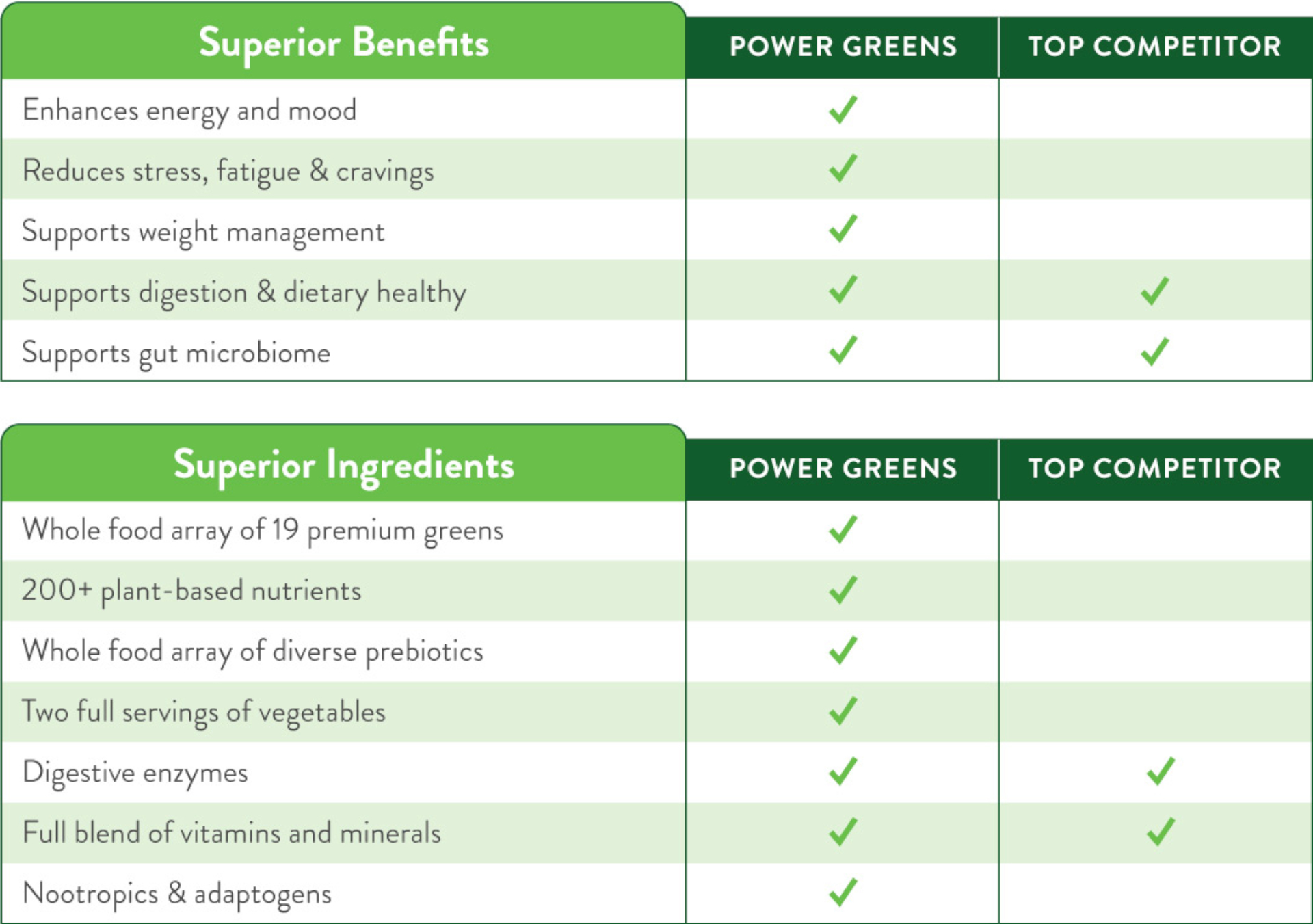 Recommended Usage
Mix one scoop, or one To-Go Pack, per day into 12-16 oz. of water or your favorite beverage, drink and enjoy!
Ingredients
Whole Food Blend: spinach leaf, spirulina, chlorella, artichoke leaf extract, organic strawberry fruit, organic raspberry fruit, organic broccoli flower, organic carrot root, organic tomato fruit, organic kale leaf, organic broccoli sprout, organic sour cherry fruit, organic cranberry fruit.
Digestive Health Blend: apple fruit fiber, acacia fiber, xanthan gum, multi-enzyme blend (amylase, protease, cellulase, lipase, lactase), carrot root fiber, blueberry fruit fiber, cranberry fruit fiber.
Immune Boost Blend: orange juice solids, ascorbic acid, orange peel extract, orange peel oil, elderberry fruit.
Mood-Enhancing Adaptogen Blend: choline bitartrate, schisandra fruit extract, maca root powder, rhodiola root extract.
Antioxidant Blend: green tea leaf extract, quercetin, turmeric root extract, sodium copper chlorophyllin, grapefruit peel extract, bilberry fruit extract.

Why Shop with Us?
Over 500 Quality Supplements Available
Outstanding customer service with over 20 years experience selling Nature' Sunshine Products.
Free Shipping with $150 Purchase.
Secure Online Ordering.
100% Satisfaction Guarantee
Like all Nature's Sunshine products, your satisfaction is guaranteed.   If you are unhappy with your purchase - just let us know so we set up a return for you, and you will receive a full refund.
Why We Like Power Greens:
Better tasting than most all green supplements.
It's easy to get daily vegetable servings.
Economical formula.
Alternative Supplements