The non-GMO plant and superfood protein powers your metabolism and promotes satiety.
Calories fuel you without ever coming from added sugars or processed, simple carbs.
Beneficial carbs, like dietary fiber from whole foods, roots, herbs and mushrooms, add to Power Meal's smart macro balance.
The nourishing herbal root blend supports energy, digestion, circulation, mood and focus.
A powerhouse of micronutrients, naturally found in premium fruits and veggies (including 5 types of berries) amplifies the nutrient/benefit profile
Five powerful, proven organic mushrooms activate both innate and adaptive immunity.
Eight sources of plant-based fiber support satiety and gut health, for that healthy satisfaction.
Ten essential vitamins, and Ten effective minerals help you meet the needs of your daily diet.
Pineapple bromelain works synergistically with all the gut-healthy fiber to aid digestion and comfort the stomach.
About Nature's Sunshine Power Meal
Power Meal combines top-quality ingredients into one convenient blend.  All of this goodness is swirled together in a heavenly chocolate or vanilla flavor, enhanced with cinnamon and stevia.   It features:
Better Nutrition: 
Premium plant protein with balanced carbs and fat so you feel more daily power
Helpful calories come from whole foods, roots, herbs and mushrooms
Formulated by herbalists, scientists, and health practitioners
Better Performance:
Strength & endurance support from premium plant protein
Mood, digestion, and immunity support from roots, mushrooms, and plant superfoods
Gut health & satiety from upcycled fiber and comforting enzymes
Better Taste:
Smooth, creamy, mouth-watering vanilla or chocolate options
No sugar added, no artificial sweeteners, tasty to the last drop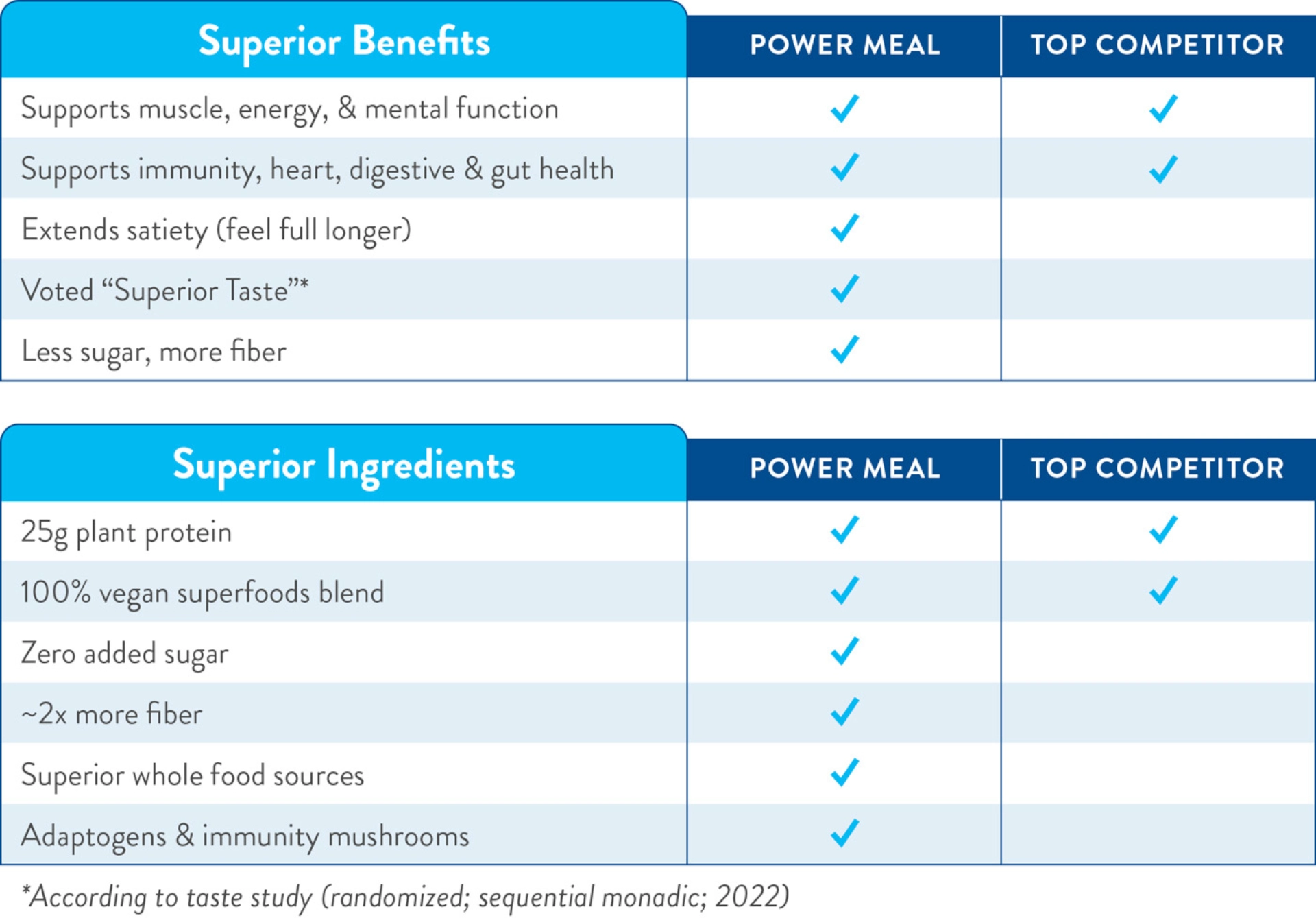 Recommended Usage
Mix 2 rounded scoops (57g) in 12-16 oz of water based on taste preference. Keep out of reach of children. Store in a cool, dry place.
Why Shop with Us?
Over 500 Quality Supplements Available
Outstanding customer service with over 20 years experience selling Nature' Sunshine Products.
Free Shipping with $150 Purchase.
Secure Online Ordering.
100% Satisfaction Guarantee
Like all Nature's Sunshine products, your satisfaction is guaranteed.   If you are unhappy with your purchase - just let us know so we set up a return for you, and you will receive a full refund.
Why We Like Power Meal:
Supports lean muscle, endurance, immunity, gut health, focus and stress response
Delivers 25g protein with balanced, whole food macros and prebiotic fiber
Economical formula.
Alternative Supplements